Hau den Lukas
The classic: for strong and skillful visitors
The "Hau den Lukas" strongman game is as much a part of the Oktoberfest as sweet mustard on sausage. If you want to show off how strong you are, you've come to the right place. But watch out: it doesn't depend on strength alone.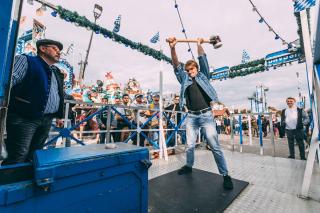 What's special: a hammer with cult appeal
If you want to show off how strong you are, the "Hau den Lukas" strongman game is just the thing for you. There are several strongman game stands at the Munich Oktoberfest, and they're all simply part of the fun. They all work according to the same principle: with a hammer, men (and women, of course) hit a button. The blow of the hammer causes a metal insert to rise upwards in the corresponding floor box. The higher it rises, the stronger the blow was.
Hau den Lukas: fun to join in and watch
Everyone will get their money's worth at the "Hau den Lukas" Because it's not only fun to join in, but also to watch. Of course, the obvious audience for the "Lukas" are men who want to show what they can do. But women can also impressively demonstrate that it's not just muscle power that counts: you can reach your goal with precision and the right method. Some stands even offer smaller versions of the "Hau den Lukas" for children to join in.
Hau den Lukas strongman game for backseat drivers: strength alone is not enough
Strength alone is not enough to make the bell ring. To achieve a good result, you have to be straight and accurately when hitting the button with the hammer. And the right posture also makes a difference. If you hold the hammer at the bottom of the handle, you can take advantage of some leverage. This way, you need much less force than holding the hammer higher up. You should never swing the hammer over your head, otherwise you could easily loses your balance and fail to hit the target accurately. Just try it out on your next visit to the Oktoberfest!