Bayern-Rallye
Bayern-Rallye: big Oktoberfest fun for the little ones
For children, it's the highlight of Oktoberfest every year when they're allowed to take a ride on the classic Bayern Rallye (Bavarian Rally) track. A lap in a speeding race car, or would you rather be in a police car? Buckle up and let's go for the fun round!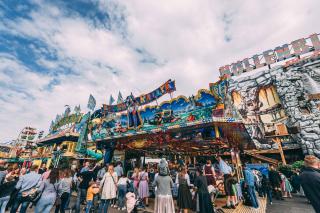 What's special: Wasti the Wolpertinger
Since the year 2000, the Bayern Rallye has had a very special regular guest to offer: Wasti, the motorcycle-riding wolpertinger (a mythical animal resembling a rabbit with wings and antlers). Since then, the mascot has been touring folk festivals with the Bayern Rallye and is an additional free attraction for visitors. In keeping with the style of the ride, he speaks in Bavarian dialect with lip-synchronous mouth movements, and can also perform various body movements.
Bayern-Rallye: double-quick time, but safely
The Bayern Rallye was commissioned by Max Fahrenschon Jr. in 1996 for half a million Deutschmarks, delivered for the 1997 season. Since then, the rally has been running its fast laps across Bavarian folk festivals. With the different vehicles, the original facade design, and the solid technology, children can still enjoy the children's sports carousel today. But despite its old age, the rally is anything but slow, which is why safety is so important in the integrated baby flight. Infants under the age of three may be accompanied by an adult in a family-friendly manner – free of charge.
Bayern-Rallye for backseat drivers: two carousels in one
The Bayern-Rallye is a fusion of two rides in one. At the same time as being a children's sports carousel with fast laps, the ride is the first with an integrated baby flight in the inner circle. Turning laps and taking off at the same time is only possible in this children's attraction. The planes can be controlled independently of each other. Flying or driving in circles – every child can decide for themselves and test their own limits.