Jules Verne Tower
The tallest mobile giant swing ride in the world
Above the clouds, freedom has to be boundless… The Jules Verne Tower doesn't go that high, but at a height of 80 meters you can leave everyday life behind you — at least for a few minutes.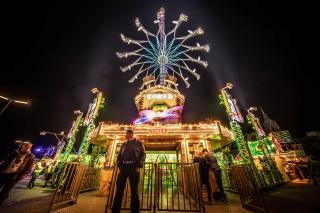 What's special: fun at lofty heights for the whole family
Even if it goes really high, the tallest mobile giant swing ride in the world is a true family carousel. Children ages 6 and older are permitted to ride, provided they are at least 110 cm (43 inches) tall. The seats are ergonomically shaped bucket seats. A handle bar and automatic belts ensure double safety. The elevator pulls the passengers to the top at a speed of up to two meters per second. Then things start turning at a cruising speed of about 65 km/h. But even at this rapid speed, you can still enjoy the incomparable view of Oktoberfest and Munich with the Church of Our Lady.
In all honesty: You shouldn't be afraid of heights
Who should visit the Jules Verne Tower? This giant swing ride is clearly one of the attractions at the Wiesn where the whole family has fun. Younger children, especially on their first trip with the Jules Verne Tower, should always have an adult with them to hold their hands if they need it. Of course, you have to be free of vertigo if you're going to climb on here. If you're afraid of heights, the minutes up there might seem like an eternity. If you like the thrills on the light side and want a unique panoramic view of the Wiesn, this is the perfect place for you.
Jules Verne Tower for backseat drivers: The name says it all
The Jules Verne Tower bears his name to retrospectively incorporate the science fiction visions of the famous writer. The LED-lit hot-air balloon at the top of the tower is an eye-catcher that can be seen from afar - an homage to the classic "Around the World in 80 Days."