Jumanji
Jumanji: the labyrinth with the danger of addiction
In the traditional Jumanji funhouse, visitors can immerse themselves in the adventurous world of magic, optical illusions, and obstacles. On three levels, the experience labyrinth takes you into a jungle of different trials. Rarely has walking been so much fun!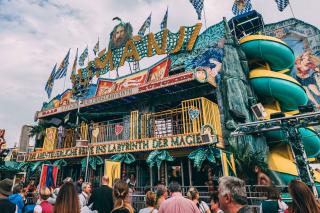 What's special: Jumanji is always good for a surprise
Jumanji was the first open amusement shop with several floors: The special thing about the actually antique funhouse are the different stations that every visitor has to pass in order to master their personal "jungle test." Everything jolts, wobbles, shines, and moves to make sure it's not too easy for Jumanji visitors. Especially in the evening and after a visit to the festival tents, the speedrolls, the wobbly stairs, and the jungle slide (which is quite fast) offer both challenge and fun. The infamous glass labyrinth on the ground floor is also cleaned several times a day so that the Jumanji aspirants lose their sense of perspective in any case. The view from the upper gallery, at a height of eight meters, is always a show.
Jumanji: funny and family-friendly
Jumanji is exactly the right thing for everyone who wants to be transported back in time, when game nights were the recipe for a nice evening instead of video games. One of the most popular German attractions offers a fireworks display of effects, and yet a kind of homely satisfaction for all age groups. This includes the funhouse by one of the oldest performing families there ever was. Even the ancestors of the Haas family from Munich toured Germany and its neighboring countries as jugglers and ballad singers since the 17th century.
Jumanji for backseat drivers: The inspiration came from the movies
The Haas family created a monument to the 1995 fantasy adventure film by Joe Johnston in the form of their attraction. The magical boardgame must be played exactly like the funhouse: to the end. It was originally created as a sketch on paper. And on their journey across the board, the players around Robin Williams sometimes get lost in the jungle and only manage to get out of the three-story labyrinth together. A very special tribute, especially since Williams' death in 2014.