Kettenflieger Bayern Tower
The chain carousel that looks like a maypole
You won't come this close to the sky that often: The Kettenflieger Bayern Tower made its debut at the 2022 Oktoberfest. If you are free from giddiness you will get a fantastic view over the Theresienwiese and beyond.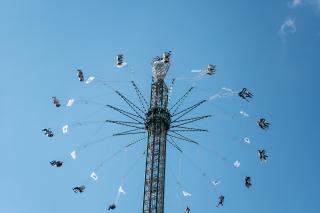 What's special: Bavarian tradition combined with fun and action
You will see able the Kettenflieger Bayern Tower at the Theresienwiese from far away. You only have to look for the biggest tree you can find. The mast of the chain carousel is 90 meters high. It looks pretty much like a real maypole, but it is made of steel instead of wood. Owner Egon Kaiser is already happily waiting for the guests to give themselves a treat and enjoy a great view. But there is a lot to discover on the ground, too, more specifically on the back side of the ride. It is decorated with many bavarian reminiscences like the Bavaria statue, King Ludwig II, the town hall of Munich or Neuschwanstein Castle.
Kettenflieger Bayern Tower: It is essential to be free from giddiness
The most important thing for taking a ride with the Kettenflieger Bayern Tower ist that you are free from giddiness. After you take a seat in one of the 16 two-seater gondolas you get secured with a hanger pole and an automatic belt. Safety first! Then the ride to the sky can commence - with some speed. The elevator fires the guests to the top of the mast with two meters per second. Then the round flight holds the speed up high. The Kettenflieger Bayern Tower will spin you around with 65 km/h, which provides you with a fantastic 360 degree view.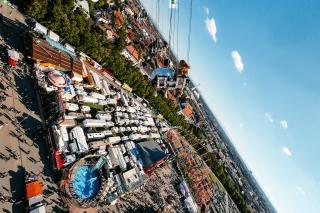 Kettenflieger Bayern Tower for backseat drivers: Great alternative to St. Paul's church
The tower of St. Paul's church is 97 meters high and a very popular spot during the Oktoberfest. But this year it is not accessible for the public because of some renovation work. So why shouldn't you just go for a ride with the Kettenflieger Bayern Tower, which is at least 90 Meters high? The view is fantastic: The festival area, the old town of Munich and, when there are some good weather conditions, the panorama of the Alps in the distance. At night the rides are very recommendable, too. Hold your flirt in your arms and enjoy the millions of lights.