Olympia Looping (Five Loops)
The Five Loops, the largest transportable rollercoaster in the world
At the largest folk festival in the world, a rollercoaster of superlatives is a must: The Olympia Looping is the only mountain and valley cableway with five full inversions! Screaming guaranteed.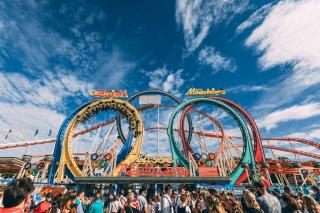 What's special: 5x inversions are only possible with the Olympia Looping
It wasn't until 1978 that the first roller coaster with a loop celebrated its premiere in Germany. A year later, the upside-down section doubled to two, and since 1989, Barth's Olympia Looping has not only been the largest transportable rollercoaster in the world, but also the only one where you can roll over five times. This is quite the thrill, especially in the front of the first car and – insider tip for adrenalin junkies – when it rains. But the special thing about the Five Loops is that the sensation of riding it is very harmonious and soft, despite the strong acceleration and the forces at work.
Olympia Looping: for everyone who loves adrenaline
The ride is 1,250 meters long with five loops. Speeds of up to 100 km/h can be reached by up to five trains, which can travel simultaneously and each seat 20 to 28 people. The forces acting on the rapid descents are impressive: Up to 5.2 g's can press on your stomach! A g means your own body weight. For example, if you weigh 70 kg (165 pounds), up to 364 kg (802 pounds) will be acting on your body! Children ages 8 and older are allowed to ride, though children under 12 must be accompanied by an adult.
The Five Loops for backseat drivers: dates, facts, figures
The premises of the Olympia Looping could accommodate 33 spacious three-room apartments; the entire rollercoaster weighs as much as 900 mid-class cars or 150 African elephants. The erection and dismantling takes one week each time, employing 10 full-time fitters. When the Five Loops is transported by train, 50 wagons are loaded with 20 large-capacity containers.