The Ferris Wheel
Willenborg's Ferris wheel: symbol of Oktoberfest
The Willenborg Ferris wheel has been on the Oktoberfest in Munich since 1979. It's not the largest of its kind, but probably the one with the most beautiful view — and is considered a symbol of Oktoberfest.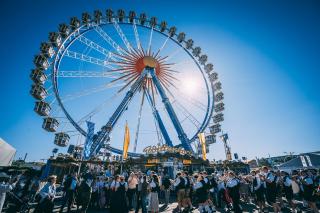 What's special: 40 gondolas, 50 meters high, 360-degree view!
Up to 400 people can ride the Ferris wheel at the same time: Each of the 40 gondolas offers space for 10 people. The view from the 50 meter high Ferris wheel stretches over the entire Theresienwiese from the Bavaria to St. Paul's Church, behind which you can see Munich's Old Town with the Church of Our Lady. And to the south, on clear days and particularly with foehn winds, you can even see the Alps! But even in the dark, the ride is a unique experience: The tents, stalls, and rides form a sparkling, colorful sea of lights that can only be admired once a year in Munich.
Tips for a ride on the Ferris wheel
A visit to the Oktoberfest isn't complete without a ride on the Willenborg. The Ferris wheel is suitable for all age groups, from baby to grandma and grandpa. There's an extra parking lot for pushchairs and buggies, and of course wheelchair users are also welcome – just ask the staff! Even when it rains, you won't get wet: neither in the gondolas nor in the covered "station," where music passes the time for those waiting. Speaking of wait times: The queues are often long, but it takes less time to wait than you might think. After all, up to 400 people can fit into the 40 gondolas at the same time. Don't forget your smartphone or camera!
The Ferris wheel for backseat drivers: at the Oktoberfest since 1979
The Munich Oktoberfest Ferris wheel has existed in its present form since 1979, the year it was also built. Its earliest predecessor was the "Russian Swing" with vertical circular movements, which was widespread in the 18th century in Russia and Turkey, among other places. The first transportable "Russian wheels" started in the late 19th century, at most 12 meters high with 6 to 12 gondolas. The first Ferris wheel in its present form was built for the 1893 World's Fair in Chicago, measuring 76 meters tall. It was not until 1960 that travelling Ferris wheels made of steel were developed.