The Flip Fly
Giant boat swing for the brave: Flip Fly
Boat swings are a must at every folk festival. The Oktoberfest has traditional versions of these rides as well as the extreme version: the Flip Fly. It requires courage and a strong stomach.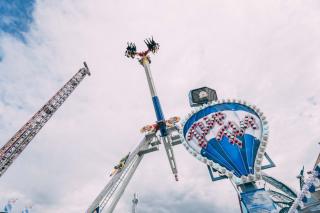 What's special: The Flip Fly rotates around three axes
With traditional fair boat swings, passengers have it more or less in their own hands how intense the rocking sensation – especially in the stomach area – gets. If you're looking for a kick, there's sometimes a variant with an inversion for you. But that was it. The Flip Fly ride, on the other hand, is similar and yet completely different, rotating around three axes: The large swing arm makes a loop and, additionally, the gondolas fixed at the end rotate in a circle and around their own axis.
Flip Fly: for brave and seafaring stomachs
Who should dare to ride on the Flip Fly? For those courageous riders without a fear of heights, but a stable seafarer's stomach, the Flip Fly amusement ride with its various rotational movements is certainly a suitable challenge. A maximum of twelve people in the three gondolas can enjoy "high" enjoyment at the same time. For all others, the unknown creep factor is just as high at the sight of the 24-meter-high ride from below, because the gondolas swing directly over the heads of the spectators. This also means the Flip Fly offers something for the eye at night; the lighting was completely revised a few years ago. Since then, the colors have become even stronger and have put the giant boat swing in a very special light.
The Flip Fly For backseat drivers: a family affair since 1850
Thomas Clauß started his own business in 2009 and has been operating the Flip Fly ride on the Oktoberfest since then. He comes from a performing family whose history goes back to the year 1850. Things started with the first boat swing. A high-flying carousel, Zugspitzbahn, spider, bumper cars, flying carpet, Icarus, Jumping – and Flip Fly followed. The family was represented for the first time at Oktoberfest in 1902.