The Ghost Palace
Goose bumps and pure thrills
Horror fans will definitely love this Oktoberfest fun! The Geisterpalast (Ghost Palace) is one of the newer attractions on the Oktoberfest, and its inventors have taken "fright" to a whole new level.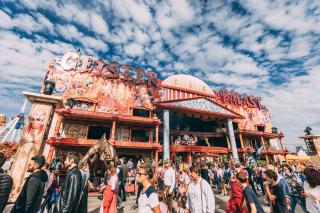 What's special: where the horror (fortunately) never ends
The Ghost Palace quite a few superlatives to offer. For example, it's the largest mobile tunnel of horror in the world. Those who like rides with a creepy factor will love this attraction, as here, you are in for an incredibly long, uncanny ride. The Ghost Palace has been recently modernized and offers scary fun on three floors. Ancestral halls that suddenly come to life, American animatronics, and interactive flatscreens with monitor effects ensure that the four minutes of ride time fly by. And the 360 degree rotating seats guarantee that you won't miss a shocking moment...
Not for the faint-hearted
Who should visit the Ghost Palace? This Oktoberfest attraction is best not for jumpy minds, but it's definitely for discerning fans of the macabre. After a ride through the Ghost Palace, images are guaranteed to stick with you. And if you're the type who'd like to look at these images again and again, you shouldn't miss a visit to this ghost train of superlatives.
The Ghost Palace for backseat drivers: shark alarm in Munich
Sharknado meets Oktoberfest. We don't want to spoil all the riding fun, but the nasty shark attack that awaits visitors to the Ghost Palace is really something. Fright be gone! Now you don't even have to travel to Australia to fall victim to a giant shark. A visit to the Munich Oktoberfest is enough.