The Hexenschaukel
Whip, whip, hurray! Pure fun on the Hexenschaukel (Witches' Seesaw)
It's like it's been bewitched. Nothing in this house is as it seems. Those who like to be fascinated by illusions should pay a visit to the Hexenschaukel.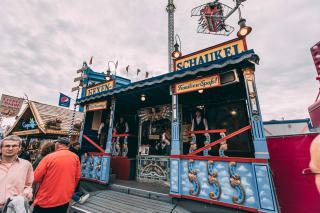 What's special: You step in and the world turns upside down.
At least that's what you think, because the Hexenschaukel is all about illusion. Once you've taken a seat in the cozy fun room, you can look forward to many surprises and sensational light and movement effects. This amazing illusion works so well because the room is rotated around the swing axis from the outside. There's no way anybody else here knows where the top and bottom are.
Great fun for all those who've got the hang of it
Who should ride the Hexenschaukel? Anyone can really get in here, because both children and grown men can get their money's worth on this ride. Even if it feels strange, you stay safely in your seat throughout the journey. Nothing can happen to you. You should watch out only if you've done some serious eating or drinking in the tent or beer garden. Because even if all the turning is just simulated, roast chicken, Wiesn beer, and Kaiserschmarrn could be on a merry-go-round in your stomach.
Hexenschaukel for backseat drivers: a piece of nostalgia
The Hexenschaukel belongs to the category "illusion swing" or "rotating house." This type of ride is one of the oldest fairground attractions in the world. The swings from the US came to us in Germany back in 1894. A ride on the Hexenschaukel is definitely something for nostalgists.