The Münchner Rutschn
On the big wave: the Münchner Rutschn
Not the loudest, but one of the most entertaining rides for young and old on the Wiesn: the Münchner Rutschn (Munich Slide).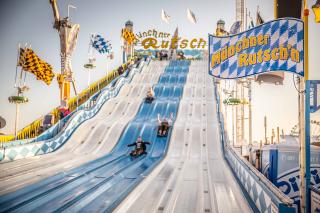 What's special: Sliding fun for young and old
The smaller Wiesn visitors can prove their courage here, while the older ones can rediscover their inner child: when sliding from 23 meters' height on friendly, white-blue wave tracks over an incredible 55 meters in length. From every perspective, the nine long, altogether 15-meter-wide lanes are impressive; from the starting point at the very top, they seem almost enormous. Nobody has to run out of breath on the way up — the transport to the starting point takes place via conveyor belt.
A slide classic that never gets old
Who should ride the Münchner Rutschn? Everyone who loves speed, misses visits to the playground and swimming pool, wants to test the laws of gravity on themselves, and for whom the conventional slides are always too short because the fun is over too quickly.
The Münchner Rutschn for backseat drivers: magnificent Wiesn motifs
An artist has immortalized himself on the elaborately painted train carriage with wonderful Wiesn motifs.