The Toboggan
A somersault for the audience: the Toboggan
The descent from the tower slide is just one highlight of the Toboggan — it's just as much fun watching the daring climb up the conveyor belt after a few beers. Or trying it yourself!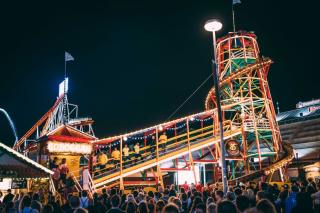 What's special: fun riding and watching
Watching the Toboggan is at least as much fun as riding along! On a conveyor belt, you have to glide more or less elegantly eight meters upwards before climbing the spiral staircase and rushes down the wooden slide on sackcloths. What sounds simple is often involuntarily funny — especially for the audience. It's especially fun starting in the late afternoon, when those trying it have already had a beer or two beforehand. A true Oktoberfest classic for free, that's also on the way to the exit in the direction of Goetheplatz, where things are a bit more comfortable in the evening than at the Theresienwiese subway.
Somersault on the conveyor belt, view, and sliding fun
Who should ride the Toboggan? The Toboggan is fun for everyone. For children it's the cool, long slide; for Oktoberfest romantics the beautiful view from the tower. And for those coming out of the tents, because they can either prove that they can still ride the conveyor belt confidently despite all the Oktoberfest beer — or because they can make the audience laugh and are guaranteed to stand (or fall) at the center of attention for a few seconds. The ride isn't dangerous, by the way: The laid-back young men who ride along, and also bring the stacks of sackcloth back up with artistic skill, will hold the hands of children and ladies if they wish and grab the men by the coat tails if they stumble too much. They all make it up to the top!
Toboggan for backseat drivers: an indigenous sled
The wooden slide with the conveyor belt has a long history: The first Toboggan came about as early as 1906, built by Anton Bausch after the Parisian model of 1900, and has been at the Oktoberfest since 1933. The word "Toboggan" is originally a term of the Canadian Algonquin natives, meaning a lightweight snow sled made of wood. The traveling performers, the married couple Konrad, previously traveled with their Toboggan through Italy, Austria, and Croatia, but today extensive travel with the giant slide is no longer profitable. But of course this classic of the Munich Oktoberfest will be preserved.