Augustiner Festhalle
Smooth Augustiner beer from wooden barrels
Family-friendly tent with a good atmosphere and extra attentive service - the host makes sure of it. The good Augustiner from the wooden barrel tastes even better here.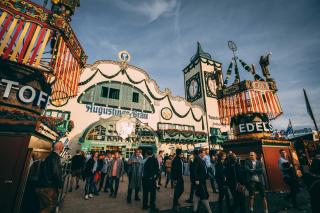 What's special: beer from wooden barrels
The popular Augustiner beer comes from the "hirsche," traditional wooden barrels with a capacity of 200 liters. The beer tastes better from a wooden barrel than from a steel container: milder and more palatable, as it has less carbon dioxide. Cheers!
The history: on the Oktoberfest with tricks
What a dog he was, the "Nuremberg crocodile host" Georg Lang. He circumvented three conditions for admission on the Oktoberfest in 1898: he wasn't from Munich, didn't run his own bar at the Oktoberfest, and built much too large of a beer hall on the space of five previous pubs. He was the first Oktoberfest festival host to hire his own band in 1902. It was meant to increase beer consumption with mood music and toasts. The famous Oktoberfest mood was invented!
The audience: regulars and Munich locals
The Vollmer hosts enjoy many regulars and Munich locals as guests. The smooth Augustiner beer does the rest: Here, the atmosphere often gets cooking as early as the afternoon! During the week, on the other hand, it's rather cozy, and you can also meet many families who enjoy Wiesn lunch with their children at Hendl (chicken) und Spezi (cola-orange mix).
Gallery: Augustiner Festhalle
The music: the oldest Oktoberfest band
The Augustiner festival band can trace its band leader back to the year 1949. Since 2001, Reinhard Hagitte has been leading his large Oktoberfest band, whose musicians are the only ones to take part in the great traditional costumes parade. Hagitte's festival band values Bavarian and Munich tradition - you can talk over cultivated brass music at noon and in the afternoon, and over rock, pop, and (of course) the latest Oktoberfest hits in the evening. At some point, everyone stops sitting at the benches.
The menu: own butcher's shop
The Augustiner tent is supplied by its own butcher's shop, the Granerhof estate near Peißenberg, which also supplies the Augustiner restaurants in town. Here you can eat high welfare meat with a clear conscience. All dishes are made from regional products. There's also something for vegetarians on the menu: creamy mushrooms, vegetable patties, or dumplings of spinach, quark, and pasta dough. The Augustiner tent also has a children's menu and affordable lunch offerings.
For backseat drivers: the Augustiner Tower
It's been back since 2010: the 30-meter-tall Augustiner Tower, which existed from 1926 to World War II. And, illuminated festively in the evening, it not only shows visitors the way to the tent, but also has a practical use: The 200-liter wooden barrels ("hirsche") of beer are stored on the first floor, lowered with an elevator and then rolled to Pub 6.
Reservation, Seats, Music, Beer and Contact
| | |
| --- | --- |
| Host(s) | Manfred and Thomas Vollmer |
| Address | Wirtsbudenstr. |
| Phone | +49 (0)89 231 83 266 |
| Fax | +49 (0)89 260 53 79 |
| Reservation | https://www.festhalle-augustiner.com/reservierung/ |
| Website | https://www.festhalle-augustiner.com/ |
| Capacity | 6,000 |
| Capacity (outdoors) | 2,500 |
| Brewery | Augustiner Bräu Wagner KG |
| Beer | Alc. 6.2 % vol., 13.7 % wort |
| Music | Augustiner Oktoberfestkapelle under the leadership of Reinhard Hagitte |
| Speciality | Beer from wooden barrels, own butcher's shop |