The Wellenflug
The popular swing carousel on the Oktoberfest
A long-running favorite among the rides of the Oktoberfest: the Wellenflug (Wave Flight). At lofty heights, passengers – young and old – can float above Oktoberfest.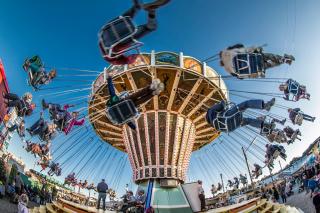 What's special: ride up and down with the Wellenflug
Feet dangling over the heads of the Oktoberfest visitors, while you circle round and round and can enjoy the view of the events from above. The name Wellenflug derives from the wave-like rotary motion in which the seats and passengers move. The ride in this swing carousel feels like a ride up and down the mountain. When the sun has set, the carousel is not only fun to ride, but also impresses with its colorful lights. By the way, it is also a popular photo motif, which stands for the Oktoberfest like the Ferris wheel and the Bavaria.
The Wellenflug: a swing carousel for everyone!
Who should ride the Wellenflug? The swing carousel is suitable for young and old. Children ages 4 and up can travel with their parents. Even older people and those who like it a little quieter and want to enjoy the view from above are in good hands on the Wellenflug. The rotation speed of the carousel slowly increases during the ride. The seats attached to chains are pulled further and further outwards by the centrifugal force until they float almost parallel to the ground. Due to their special construction, the mast and the upper end of the carousel rotate in opposite directions. The seats are thus set in the typical wave motion that sets the Wellenflug apart.
Wellenflug for backseat drivers: at the Oktoberfest since 1919
The swing carousel has a long history: the first chain carousel swung Oktoberfest visitors to lofty heights as early as 1919.