Goldener Hahn
A mountain lodge in the middle of the Oktoberfest
The rooster in the Oktoberfest tent village. On Mondays and Wednesdays, there are traditional folk afternoons with Schuhplattler dancers.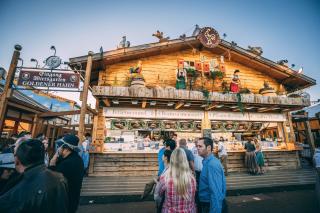 What's special: a mountain lodge with a beer garden
The Goldener Hahn is one of the few small Oktoberfest tents to have its own small beer garden, with room for up to 60 people. The tent– in the style of a mountain lodge can hold up to 300 guests. During the day, there is "Stubenmusi", unplugged of course, and in the evening, performances from the band "Dreisam Live".
The audience: reserve tables and champagne
The program and the music are on the traditional side and there is an extensive wine list by Oktoberfest standards. Not only can you reserve tables in advance, but you can also pre-order champagne. At the Goldener Hahn, you will find a cozy and dignified atmosphere, and your wallet will thank you too. That's not to say it has any less of a party mood.
The menu: breakfast until 12 noon
As the name suggests, this place is all about poultry. Chicken, roast chicken, goose and duck in various forms, on salad or as a Wiesnhendl or half-duck. But there are also vegetarian dishes and even one vegan option: a baked potato with hummus, cherry tomatoes and a salad. Until 6 pm, there is a children's menu, and breakfast is served until 12 noon: How about a "Verkaterter Hahn" ("hungover rooster") — a generously filled pretzel sandwich with a fried egg?
Only here: Schuhplattler dancers
On Mondays and Wednesdays, there are traditional folk afternoons at the "Goldener Hahn" with music played on cowbells, real whipcrackers and Schuhplattler dancers.
Reservation, Seats, Music and Contact
| | |
| --- | --- |
| Hosts | family Josef Able |
| Phone | +49 89 949 284 67 |
| Reservation | +49 89 949 284 67 |
| Website | https://www.ables-goldener-hahn.de |
| Capacity | 304 |
| Capacity (outdoors) | 57 |
| Music | Stubenmusi, Dreisam-Live |
| Speciality | Small beer garden and traditional folk afternoons with Schuhplattler dance! |