Vegetarian and vegan treats at the Oktoberfest
Meat-free and happy at Oktoberfest
Vegetarian and vegan food at the Oktoberfest? For sure! Even if the smell of grilled chicken, fried fish, or fish on a stick is in the air everywhere at Oktoberfest, everyone who doesn't eat meat is guaranteed to be satisfied. The traditional spaetzle noodles had been on the menu for most tents for quite some time anyway, but the options for vegetarians and vegans are increasing year by year.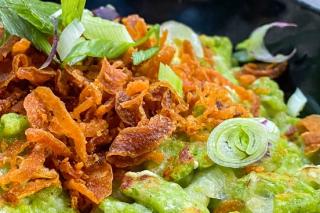 Vegetarian and vegan at the Oktoberfest: Popular dishes
Popular vegetarian and vegan dishes at Oktoberfest (selection):
Obatzda
Allgäu cheese spaetzle
Organic bread dumpling gröstl
Knödel and Rahmschwammerl (mushrooms in cream sauce)
Schupfnudeln
Oktoberfest brezn (pretzel)
"Paradeiser-Brot" (organic tomato bread from the pan)
Potato soup
Pumpkin soup
Organic sauerkraut strudel
Quinoa (on pea-mint puree)
Soy steak (with melted onions)
Vegetarian for small hunger
The selection of vegetarian and vegan dishes in the Oktoberfest tents is large. Cheese fans get their money's worth with this hearty starter: obatzda cheese spread, radish, and an original Oktoberfest pretzel. As a vegan snack, a hearty organic tomato bread from the pan or a vegan organic pumpkin spread with organic wood oven bread are up to task. Soups ranging from hearty to exotic are offered in most tents. What will it be? Potato soup, or maybe a tasty pumpkin soup with ginger and lemon grass?
Full and happy after a meatless main course
As we've already mentioned, Allgäu cheese spaetzle is available in almost every tent. But such a visit to the Oktoberfest is the perfect opportunity to try other vegetarian specialties, of which many, but not all, come from the local region. Organic bread dumplings, dumplings and creamy mushrooms (mushrooms in cream sauce), potato noodle dumplings, or vegetable-potato patties with tomato and apricot chutney will make you full and happy without meat. One vegetarian variant that always fits is pasta. At the Oktoberfest , you can find it in the form of organic pasta pockets with cheese filling or housemade spinach, quark, and pasta dumplings with creamy mushrooms. Even if these dishes are not so easy for non-Bavarian guests to order, they're all the easier to eat. Also not to be scoffed at is the large selection of dumplings. Parmesan pretzel dumplings on assorted Bavarian vegetables with herb sauce, spinach or cheese dumplings, or even the "dumpling triple loop." Enjoy!
Vegan is the trend — even at the Oktoberfest
Vegan dishes are also available in a wide selection at the Oktoberfest . For example, you have access to organic sauerkraut strudel, pan-fried vegetables with tomato puree, and lamb's lettuce on a kohlrabi carpaccio. Popular meat replacement dishes such as quinoa (on a pea and mint puree) or a soy steak (with caramelized onions) can be found in the large and small tents, and are likely to please even Oktoberfest visitors who haven't dedicated themselves to a meat-free diet.
Gluten and lactose free food at Oktoberfest
You can also find meatless alternatives such as burgers with vegan meat loaf, pea schnitzel or vegan tree striezel at the snack stands. Vegetarians will also find vegetable rolls, vegetarian baguettes, potato gratin and spiral potatoes.
Of course, visitors with allergies or intolerances do not have to starve either: there are gluten- and lactose-free dishes such as coconut curries or oven catrots with chive sour cream, sweet potato chips or crepes prepared accordingly.
In general, the number of Oktoberfest delicacies without animal products has risen sharply in recent years.