Hochreiters Haxnbraterei
Small but personal, and delicious
"Und dann die Haxn zum Himmel … lala lala lalaaaa!" Many gourmets have already sung the praises of Hochreiter's legendary pork and veal knuckles.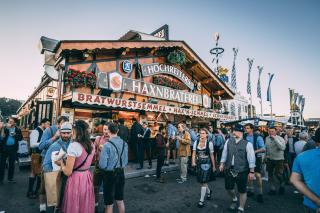 What's special: Oktoberfest spirit without the stress
Hochreiter's Haxn Roaster is not a classic beer tent, but a small restaurant and dining tent that is considerably cozier and quieter than the big neighboring tents. The Hochreiter family and the staff always take care that only as many guests can enter as the tent has room for. It's therefore worth making a reservation: Even if you leave the tent for a short time, you can come back to your reserved table without a problem. You won't find that in the big tents!
The audience: families and everyone who likes it cozy
Hochreiter's Haxn Roaster is a hidden gem for visitors who value the authentic atmosphere that gives the Oktoberfest its charm. Here there is no ruckus or dancing on the tables, only delicious food and swaying to the music. Particularly at lunchtime, families come here to enjoy traditional Bavarian food in a cozy, civilized atmosphere and to take a break from rides and the crowds.
The menu: delicious "haxn" (ham hock) with no regrets
As you would expect, the roaster specializes in the dish from which it takes its name. Every season, around 10,000 ham hocks and veal shanks are consumed there. You can even watch the chefs and grill specialists prepare your food! But there is more on offer than just meat: Hochreiter's not only caters for vegetarians, but also to those with a sweet tooth and those who are watching their figure. As it should! And yes, you can also find light meals on the menu. Another plus: kids' portions for a reduced price.
Only here: award-winning "haxn" from star chefs
The crispy grilled ham hock and veal shank at Hochreiter's Haxn Roaster are so good that even celebrity chefs have publicly praised them. Proof once again that it doesn't have to be haute cuisine to impress the gourmets. Sometimes all you need is a good "haxn"!
Reservation, Seats and Contact