Schiebl's Kaffeehaferl
A meeting point for the whole family
The Kaffeehaferl is pitched in front of the Hofbräu festival tent and is hardly visible from the outside; but it is indeed a tent with room for 60 people. Perfect for a pit stop with café au lait and fresh, homemade apple cake.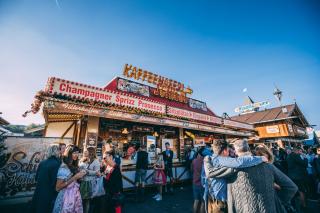 What's special: everyone loves the Hulk!
The Kaffeehaferl is not very big. The smallest tent at the Oktoberfest has only 60 seats and a somewhat hidden entrance. Instead of beer benches, guests sit at small tables and chairs, including cushions and ruffled curtains. And where there are no beer benches, there is also no beer. Instead, various wines and spirits are served alongside the coffee specialties. The Kaffeehaferl is famous for its Bavarian sweet treats — and the Hulk, a green mixture of prosecco and woodruff syrup.
The audience: regular guests and families
The Schiebl family has run this elegant Wiesn tent since 1976 — and its reservation policy has remained the same ever since. Regular guests call one day in advance to reserve a table. Otherwise, anyone can enter if a table is free. On the kids' day, you can find lots of families at the Kaffeehaferl.
The menu: breakfast, Bavarian desserts, Auszogne
The Schiebls are famous for their apple cake, which they bake fresh all day long. The strudel is to die for too. You can choose from apple, plum or milk-cream strudel. Fresh dampfnudels with custard and ausgezogne round off the homemade selection of sweet treats. Note: "Ausgezogne", a name that means "undressed" in German, is not a Oktoberfest striptease but a traditional Munich pastry. The yeast dough used to be stretched out ("ausgezogen") over the knee, which is where the name comes from.
Only here: a nightcap at the Kaffeehaferl
At Schiebl's Kaffeehaferl, an oasis of calm without beer or music, there are delicious treats from morning 'til night. From breakfast to a varying lunch menu to a nightcap in the evening — here both young and old alike will find something to satisfy their cravings. Many Oktoberfest guests also take a detour on the way home to stop at the Kaffeehaferl for sip of "The Hulk". The green mixture of prosecco and woodruff syrup has attained cult status at the Wiesn!
Reservation, Seats, Music and Contact
| | |
| --- | --- |
| Host | Thomas Schiebl |
| Phone | + 49 89 448 44 62 |
| Reservation | + 49 89 448 44 62 |
| Website | http://www.schiebls-cafebetriebe.de/ |
| Capacity | 60 |
| Music | No music |
| Speciality | Cozy tent, an oasis of calm; cult drink "The Hulk" |