Family Day: On September 19 and 26 at the Oktoberfest
Cheap offers for children at rides and carnies
Whether it's a ride on the Ferris wheel, a round at the shooting range, or a bag of roasted almonds: On Tuesday, September 19 and 26, the youngest visitors to the Oktoberfest get many wishes fulfilled. Twice per Oktoberfest, "Family Day" takes place until 7 p.m. with discounts for children and families.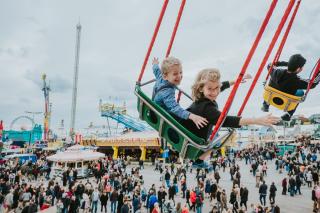 Discounts for children at the Oktoberfest on Family Day
On the Oktoberfest Tuesdays (September 19 and 26) until 7 p.m., numerous rides, performers, and snack stands offer special prices for children and families. The large festival tents also offer children's dishes and menus at special prices.
Every day is Family Day at the Familienplatzl
The Familienplatzl on Straße 3 is open not just on Tuesdays, but every day. There, parents will find everything they need to make their Oktoberfest visit with the little ones more relaxing. Meals and snacks are served in children's portions and at family prices — including a surprise. You can also bring your own food to the beer garden and heat it up in a microwave on site. For the extra little ones still too young for the big rides, the Familienplatzl has a baby flight and throwing game with great prizes. As an extra service for families, there is a baby carriage parking garage and a baby changing room with changing table. By the way, the whole family place is laid out step-free with a wooden floor.
Oktoberfest tips for families
The Oktoberfest is not only child-friendly on family days. In the Oktoberfest tips for families, you can find out everything you need to know for a relaxed visit to the Oktoberfest with children: about what's on offer at the Oidn Wiesn with the puppet theater, the Oktoberfest diploma and the fun high-wheelers, and about the useful services such as stroller parking, children's toilets, changing tables or the child finder wristbands.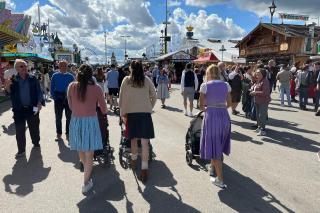 Wiesn-Tipps für Kids (und Eltern)
Nicht nur an den Familientagen zeigt sich das Oktoberfest kinderfreundlich. In den Wiesn-Tipps für Familien erfährt man alles für einen entspannten Besuch mit Kindern auf dem Oktoberfest: Über das Angebot auf der Oiden Wiesn mit dem Marionettentheater, dem Wiesn-Diplom und den lustigen Hochrädern und über die nützlichen Service-Angebote wie Kinderwagen-Parkplätze, Kindertoiletten, Wickeltische oder die Kinderfinder-Armbänder.