Where is the Oktoberfest?
Theresienwiese with Bavaria statue and St Paul's Church
For over 200 years Oktoberfest has taken place every year in the same location: on Theresienwiese. What's so special about this world-famous meadow and where exactly do you find it in Munich?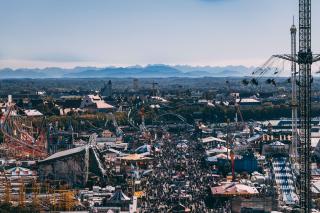 Theresienwiese in Munich – Ludwigsvorstadt-Isarvorstadt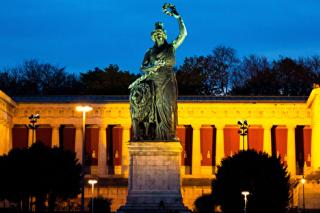 Oktoberfest takes place very centrally in Munich: on the so-called Theresienwiese, a mostly empty space of about 100 acres, not far from the Old Town and in the middle of Munich's Ludwigsvorstadt-Isarvorstadt district. Key points and sights on Theresienwiese are the statue of Bavaria in front of the Ruhmeshalle in the west, as well as the 320 foot-high neo-Gothic church St Paul's in the north. Theresienwiese is not green like a true meadow ("Wiese" means meadow in German) for the most part, even though cornflowers and wild chamomile flower in some parts in summer. Other events happen here too: For example, Springfest or, in winter, the Tollwood Festival.
The Bavaria statue: The face of Bavaria
Favorite photo scene, viewing point for a great view over Munich, meeting place, Munich's biggest female resident and inseparable from the Oktoberfest, this is the statue of Bavaria on the west side of Theresienwiese. But it's more than that: The beautiful figure in bronze is a symbol and patroness of the Free State of Bavaria. Designed between 1843 and 1850 by Munich artist Ludwig Schwanthaler, who gives his name to a street very nearby, the statue was cast in bronze and commissioned by King Ludwig I – a technical masterpiece. The Bavaria statue is 60 foot tall – you can climb to its head via a spiral staircase and enjoy a great view over Oktoberfest!
The history of Theresienwiese
Theresienwiese has borne its name from the time of the very first Oktoberfest in October 1810, given on the occasion of the wedding of Crown Prince Ludwig of Bavaria and Therese of Sachsen-Hildburghausen – it was named "Theresiens Wiese" (German for "Therese's meadow"), which later became Theresienwiese. The expression "Wiesn", today another name for Oktoberfest, comes from Theresienwiese.