Kinzler's Pirateninsel
Little pirates go on a great journey
A ride that will be loved especially by the younger Wiesn guests. Kinzler's Pirateninsel is a family friendly rollercoaster, which gives kids and their parents a great experience during their ride.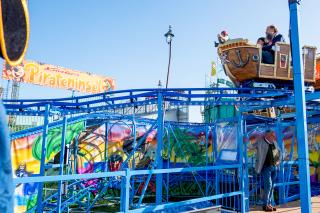 What's special: Family coaster across two floors
Be careful, the pirates are ready to board! At Kinzler's Pirateninsel it is all about the world of buccaneers. The ride is a pretty soft coaster for the whole family, where even the smallest Oktoberfest guests are welcome - together with their parents, of course. Kinzler's Pirateninsel works identical to its big siblings, the "real" rollercoasters. The rail track is 105 meters long and will take you through steep curves and over two floors with ups and downs.
Kinzler's Pirateninsel: Especially popular with children
Of course children are very important at the Oktoberfest, too. That is the reason why there are many special rides especially for the younger Wiesn guests that try to bring a bright smile to their faces. Kinzler's Pirateninsel is one of those. Children from the age of six up are already allowed to take a seat at the ride on their own, when their parents are with them it does not matter how old they are. During the ride your kids will feel like real pirates and afterwards they will surely keep their visit at Theresienwiese in good memory.
Kinzler's Pirateninsel for backseat drivers: Visit the ride at one of the family days
Particularly on the weekends the Oktoberfest can be extremely crowded. So why not avoid the big trouble and visit the Oktoberfest together with your children on one of the family days? On both tuesdays families with kids pay less at the rides during 10 a.m. and 7 p.m. And if the exciting Wiesn visit makes you feel hungry - no problem at all! In the tents there are special food offers for the offspring, too.