The traditional costume and hunters' parade 2023
Oktoberfest highlight: The Trachten- und Schützenzug 2023
Thousands of participants in traditional costumes, traditional shooters and musicians parade from Maximilianstraße to Theresienwiese during the Trachten- und Schützenzug ( traditional costume and marksmen parade) on Sunday, September 17, 2023. The traditional procession has always taken place on the first Sunday of the Oktoberfest since 1950.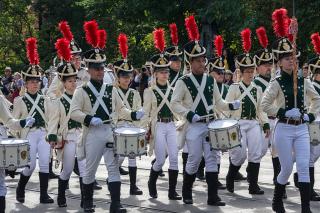 A highlight in the Oktoberfest calendar
The Trachten- und Schützenzug is one of the absolute highlights of the Oktoberfest calendar and anyone who has ever watched this extraordinary event knows why. Shortly after 10 a.m., the nearly seven-kilometer-long procession gradually beginst to move at the Max II Monument. Enthusiastically they show off their traditional costumes, wave to the cheering crowd at the roadside and even perform acrobatic acts such as the Munich moriscene dancers. The musical accompaniment is provided by numerous brass bands and marching bands playing traditional folk and marching music.
Magnificent floats and historical costumes
As always, the Münchner Kindl, the city's mascot, rides in front, followed a little later by the first festive carriage with Mayor Dieter Reiter and his wife, accompanied by the Würmesia city guard. As on the previous day, the mayors Katrin Habenschaden and Verena Dietl share a carriage, and Bavarian Prime Minister Markus Söder is there with his wife, as is Oktoberfest City Councilor Anja Berger.
The Trachten- und Schützenzug is an extremely colorful event, with historic dirndls and lederhosen on display, as well as Biedermeier fashion and even knight's armor. The participants came not only from Bavaria, but from all over Europe. In between, the splendidly decorated floats of the six Oktoberfest breweries are not to be missed and, of course, thousands of Bavarian sport shooters are also there.
The pictures of the traditional costume and hunters' parade
Who's there? Customs and folk music from around the world
A better question would be: Who isn't there? Around 9,000 participants join the festive throng in Munich and parade festively through the city in 60 groups. Not only costume wearers take part in the traditional costume and hunters' parade: costume clubs, hunters and mountain troops, marching bands and musicians from around the world can all sign up for the parade with Festring München e.V.
Which way? The route of the traditional costume parade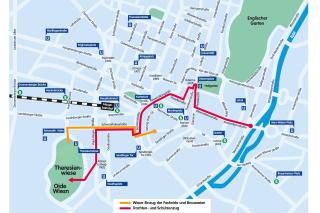 The Max II monument on Maximilianstraße is the starting point of the festive costume and hunters' parade at 10 am on the first Sunday of the Oktoberfest. From there, the parade ambles through Munich city center towards the Theresienwiese.
Where can I watch? Tickets for spectator stands
Festring München e.V. not only determines the route that the costume parade takes through the city to the festival site. For spectators who want to experience the action up close, there are stands erected along the route that offer the best view of the parade. Note: It is advisable to arrive early as the seats in the stands are not numbered.
Stand locations:
Maximilianstraße (2 x VIP stands)
Max-Joseph-Platz/Residenzstraße
Ludwigstraße/Odeonsplatz – Annast
Ludwigstraße/Odeonsplatz – AXA
Ludwigstraße/Odeonsplatz – Filmcasino (VIP)
Ludwigstraße/Odeonsplatz – Rider monument (VIP)
Feldherrnhalle (VIP stand)
Stachus (Karlsplatz) in front of Brunnenrondell (2 stands)
Sonnenstraße in front of Hausbank
Sonnenstraße in front of Lindberg
Sonnenstraße on the grass verge
Kaiser-Ludwig-Platz