War, bombs, Cholera, Corona
When Oktoberfest had to be cancelled
Oktoberfest is sacred in Bavaria. And yet there were many global events that prevented Oktoberfest from going ahead as planned. Oktoberfest businesses and visitors definitely won't let something small get in the way of festivities, but war, bombs, cholera and Covid-19 were just some of the reasons Oktoberfest had to be cancelled.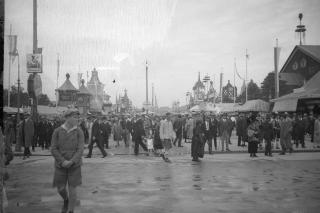 Napoleon 1813: break after four years
Napoleon was famous for his small stature, he only measured around 168 centimeters, but he was a big conqueror. In 1813, he and his army were embroiled in battles with Bavaria. Napoleon was not victorious and even had to retire shortly after. In spite of that, Oktoberfest couldn't take place in 1813 because of hostilities — only four years after it first begun.
1854: cholera dampens festive spirits
In 1854, Munich was stricken by a cholera epidemic, leaving 3,000 victims in its wake. Thousands more died throughout the rest of Bavaria. On 5 July 1854, the first German industry exhibition opened in Munich. In order to not interfere with this, the risk of a cholera outbreak, which had taken hold in India and had long since reached Europe, was downplayed by officials as a rumor. On any given day, the exhibition drew 5,000 visitors or more — the outbreak of the disease began on the very first day. Most of the sufferers lived in the south of the city, close to a fish creek. It flowed through the city and was heavily polluted from garbage and laundry washing. It was not only 'normal citizens' who fell victim to the plague in huge numbers, but so too did the wife of Ludwig I., the queen mother Therese — the very woman to whom the first Oktoberfest was dedicated, and after which the Theresienwiese was christened! She returned to Munich after she was prematurely given the all-clear and was dead the next day. In summer 1854, there were around 15,000 cases of cholera, leading to 7,730 deaths. It's no wonder that Oktoberfest wasn't on the cards.
1866 and 1873: Even more war and cholera
It wasn't only in Bavaria, but in every corner of the globe that history repeated itself, and war and cholera became facts of life once more, resulting in Oktoberfest being cancelled yet again. In 1866, Bavaria fought on Austria's side in the Austro-Prussian war, in 1873 cholera returned to Munich, and from 1914 to 1918 World War I raged. As a result, there were no celebrations in those years.
Money troubles in 1923
The inflation that emerged during World War I could not be stopped after the war ended as government spending continued to be financed through debt. In 1923, the crisis reached its peak with hyper inflation, and naturally Munich and Bavaria were no exception. While borrowers such as the state, businesses, and farmers profited from the situation and could repay any debts accumulated, suddenly recipients of fixed income and security holders faced huge financial problems. As a result, money troubles and fears for their own livelihood threw a spanner in the works for Oktoberfest.
World War II: four years later Oktoberfest was back in action
During the Second World War, the Wiesn was also cancelled, only to be celebrated as a small "autumn festival" from 1946 to 1948.
Coronavirus: Cancellations 2020 and 2021
After that, the Oktoberfest did not have to be canceled again until 2020. Only then did the Corona pandemic force another break two years in a row.