The best work in the world: earn money at the Oktoberfest
Jobs at the Oktoberfest 2023
Unbelievable but true: Many people take extra holiday to be able to work at the Oktoberfest. That's because it's fun to work at the world's biggest funfair. An Oktoberfest job like this can also be very lucrative. All the jobs have one thing in common: you can't be squeamish and you've got to be physically fit.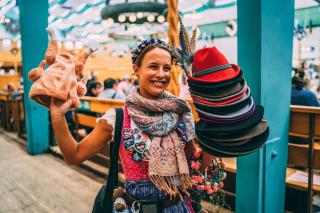 Jobs in the tent: From serving customers to taking photos
For the over 6 million annual visitors, Oktoberfest is a whole lot of fun. So it runs smoothly, a large number of specialists are required. Above all beer, chicken etc. must be served to guests in the festival tents. That's what the Oktoberfest servers look after. But more people work in the tent: among others in the kitchen, at the bar or as security staff.

Particularly popular as an Oktoberfest job: Pretzl, snuff or souvenir seller with a vendor's tray or alcohol tester or, of course, in times of selfie storms: photographers who develop their photos straight away and sell them in paper frames or hearts. These photos tend to turn out better than blurred cellphone pictures...
Who should apply to work at the Oktoberfest? Requirements:
If you want to work at Oktoberfest, the most important thing is stamina. The Oktoberfest lasts between 16 and 18 days. You should also be sociable if you want to work behind the bar or as a waiter or waitress. The right person for this job is happy to be with other people all day, is pleasant and friendly – and has strong upper arms and legs or would like to get them! The filled beer mugs weigh up to 30 kg (approx. 66 lb) per load and an Oktoberfest waiter or waitress will walk up to 20 km (approx. 12.5 miles) a day.

Security guards and medics at Oktoberfest need, in addition to the necessary qualifications, a relaxed attitude and sense of humor. Staff employed on the funfair rides can expect more fun. For example, when you help guests on the conveyor belt of the Toboggan to get to the top more-or-less elegantly.

In general: the requirements for an Oktoberfest job are good health, enjoying hard work, a good sense of humor and calmness in abundance.
What does an Oktoberfest waiter or waitress or a vendor earn?
How much somebody earns at Oktoberfest depends on the job and also where you're employed. Vendors share in the revenues and can increase their earnings with tips. If you're employed on a fairground ride or at a food stall you will receive an hourly rate.

Especially well-paid is the job as Oktoberfest waiter or waitress. Here there is no hourly rate: the wage depends on a share of the revenue. The average earnings are over 5000 euros – for the whole 16 or 18 days.

The differences are very big: the highest earnings for a Oktoberfest waiter or waitress is in a box of a tent in which not just beer but also wine and champagne are served; the least are if you're in a beer garden – when the weather is bad, there are few guests and therefore few sales. Tips make up a large proportion of the earnings, often it is several hundred euros per day.
Work for us directly or through an agency: Ways to get an Oktoberfest job
If you want to get a job at the Oktoberfest, apply as early as possible – by early summer most jobs are gone. There are different ways to find the right job at Oktoberfest. The Agentur für Arbeit München (Munich Labor Agency) advertise jobs at the Oktoberfest. Another pathway to an Oktoberfest job: apply directly to the owners of the festival tents. Some also advertise job offers on their websites.

And even if you're late applying – often it's worth being put on the waiting list. Shortly before the Oktoberfest begins, jobs always become free. A further possibility: On oktoberfest-jobs.de or wiesnjobs.de, among other websites, reputable offers and requests are posted. As always when you apply for a job: You have to have a bit of luck!